The mural featured here depicts the story of the Jimenez family and their relationship to the Mission district of San Francisco. The mural was created through a participatory process with the Jimenez family and in dialogue with the play, Mirrors in Every Corner. The mural was visible as the backdrop of the stage until the play began. The painting includes historical photos, text from interviews with family members, and media archives depicting struggles against displacement. Photo by Michael Allen Jones.
In the fall of 2009 I connected with Mercy Jimenez and her family through Poder – an organization working for environmental and economic rights in the Mission. Mercy is one of the group's longest active members, born and raised in the Mission District and the daughter of Nicaraguan immigrants active in Latino rights causes. Working closely with the Jimenez family over the following six months, we created a piece that tells the history of their Mission over the past 20 years through the story and perspective of their family – including family photos, historical photos from El Tecolote photo archive, text from interviews with the family, poetry and neighborhood photos.
When audience members arrived, they were ushered onto the stage/set before finding their seats.
The majority of the play took place around a card table. Photo by Joan Osato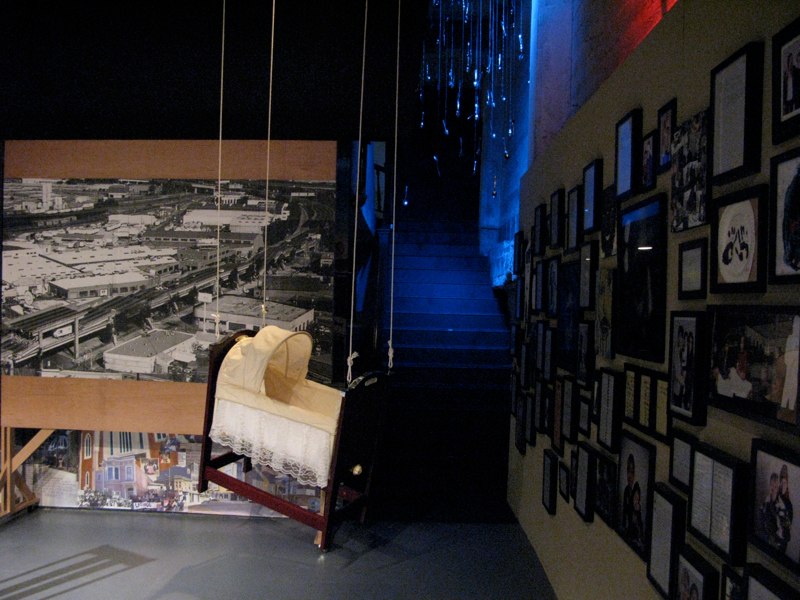 Detail from the set, which played off of Hodge's use of magical realism.
Detail from the set, which audience members were able to examine closer before the play began.
Detail from the set. One section of the set/installation consisted of photos, paintings and writings created in a set of free workshops and photo booths. Workshop facilitators: Daveed Diggs, Chinaka Hodge, Joan Osato, Kari Orvik, Mahader Tesfai and myself.
Set detail with images created by workshop participants and one half of a wheat-pasted mural depicting past and present images of the Mission district. Photo by Michael Allen Jones
Kari Orvik showing a family their portraits. Around the holidays, we invited families from the Mission to sit for portraits and gave them one framed portrait in exchange for the use of the portrait in the installation.